If your lawn seems a bit thin or is suffering from patchiness, overseeding is the perfect option for you. This lawn care treatment involves the spreading of grass seeds across your property in order to grow new, healthy grass. Because cool-season grasses tend to thrive here in South Dakota, those are the kind of grass seeds that would be used to overseed your lawn. Overseeding is designed to fill in any bare patches on your lawn. It can also help to prevent the growth of weeds. It is recommended that you schedule an overseeding service in the late summer or early fall in order to prepare your lawn for the winter.
---
Overseeding fills in any bare spots on your lawn.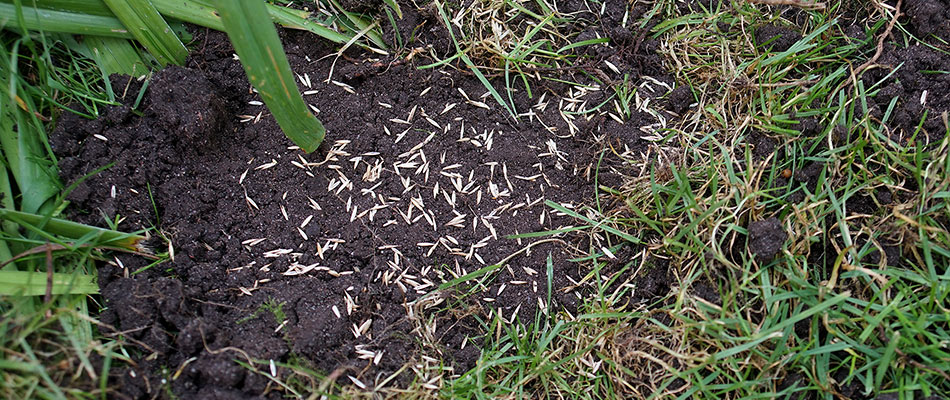 Overseeding is the process of planting grass seeds in your lawn in order to grow beautiful, healthy grass. It's a straightforward way to fill in bare patches on your lawn and improve its density. To overseed your lawn, grasses such as Kentucky bluegrass, perennial ryegrass, and fine fescue will most likely be used; this is due to the fact that these cool-season grasses tend to thrive during the cooler months in South Dakota. Overseeding is a great option if you're looking for a simple way to drastically enhance both the health and appearance of your lawn.
---
The thicker your lawn is, the more resistant it is to weeds and other issues.
By overseeding your lawn, you will actually get more benefits out of it than simply filling in bare patches. Overseeding makes your lawn denser and thicker, which strengthens your lawn and increases its resistance to things like weeds, lawn diseases, and insect infestations. This can also save you from having to purchase treatments for these issues in the future.
Weeds: Thickening up your lawn by overseeding repels weeds by crowding them out; the more grass that's in your lawn, the less room pesky weeds have to germinate and grow.
Lawn diseases: Overseeding improves the density of your lawn which naturally strengthens its defense against common lawn diseases, such as rust, powdery mildew, and leaf spot.
Insects: Having a thicker, healthier lawn also helps to prevent insects like grubs, chinch bugs, and armyworms from invading your property and causing expensive damage.
---
When should you schedule an overseeding service?
It is recommended that you have your lawn overseeded anytime between the late summer and the early fall. Overseeding during this time will prepare your lawn to thicken up and survive the upcoming winter weather. Because the treatment is done at the end of the summer or the beginning of the fall, your new grass seeds will have plenty of time to begin germinating and developing roots before the winter season begins. So, by the time winter arrives, your new grass will have already been successfully established. Overseeding in the early fall will also encourage your grass to green up more quickly once spring arrives.
It is also strongly suggested that you schedule an overseeding service directly after receiving an aeration treatment. By pairing overseeding and aeration, your new grass seeds will have a much better chance of successfully germinating and forming root systems than if you only overseeded.
The cooler fall weather provides optimal growing conditions for your new grass seeds.
---
Give us a call to schedule our overseeding service today!
If you are looking to solve the problem of patchiness on your lawn, our team at Sharp Lawn Care is the one to call. If you're ready to schedule our overseeding service, give us a call today for a quote. If you're in Sioux Falls, Tea, Harrisburg, or a nearby city in South Dakota, call us at (605) 251-6880, and if you're in the Sioux City, IA area, call (712) 253-8024. Our lawn care experts are committed to providing you with reliable, efficient, and professional service every time.