Quality Lawn Care & Pest Control Services Available in Sloan, IA
Our professionals have offered these services since 2005.
Sloan is a city located in Woodbury County, Iowa. This suburb offers its residents an intimate, small-town feel along with its old-school charm. If you're looking for something to do in Sloan, you can visit Lewis and Clark State Park. This beautiful park features walking trails, fishing, and you can even camp there!
Our lawn and landscaping experts at Sharp Lawn Care provide quality services to the residential, commercial, and HOA property owners in Sloan. Our services are designed to drastically improve the health of your lawn and maintain its appearance while protecting it from harmful insects. Our comprehensive services include fertilization, weed control, aeration, overseeding, shrub and tree care, perimeter pest control, lawn insect control, and even more.
---
Our Lawn Care Services Will Give You the Lawn You've Always Wanted
We have 3 different fertilization packages that include multiple applications of a slow-release, nutrient-dense fertilizer. These programs also include both pre-emergent and post-emergent weed control treatments that will keep your lawn free of pesky weeds. If your lawn is suffering from excessive weeds, unwanted vines, and heavy brush, our vegetation control service is for you.
Our teams can protect your property from harmful lawn diseases as well; some of the diseases we treat include rust, powdery mildew, leaf spot, and brown patch.
Our aeration service involves removing small plugs of soil from your lawn; this lawn care service is designed to loosen up compacted soil and encourage the proper absorption of water and nutrients. We often pair aeration with our overseeding service, which is meant to fill in bare patches on your lawn using a premium blend of tall fescue grass seeds.
We also offer packages that include several helpful lawn care services in one program. With our lawn health package, our experts will thoroughly inspect your lawn three times a year and conduct a professional lab soil test. For our soil care package, we will provide your soil with vital nutrients, microbe food, and a pH-balancing conditioner.
---
These Services Will Keep Your Landscape in Great Shape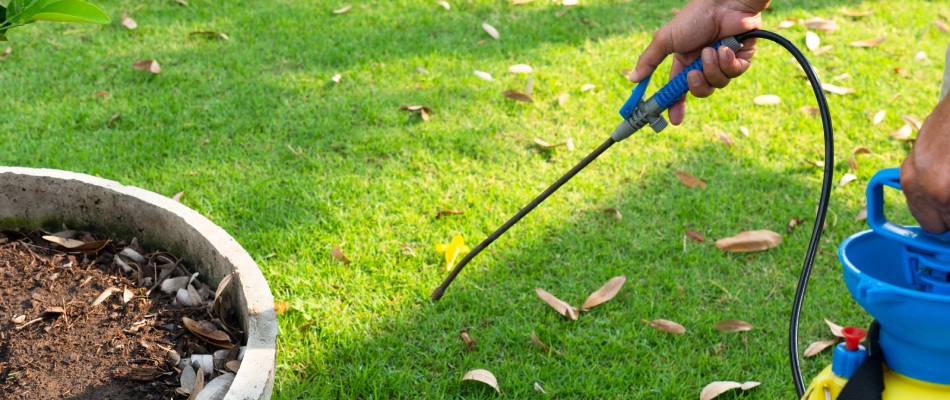 In order to keep your landscape beds vibrant and weed-free, we provide landscape bed weed control; this service includes both pre-emergent and post-emergent weed control treatments. We also offer a shrub and tree care program that consists of regular fertilization, insect control, and disease control treatments designed specifically for your trees and shrubs.
At Sharp Lawn Care, we back all of our services with our 100% satisfaction guarantee.
---
We Offer Premium Pest Control Services
With our perimeter pest control program, we can help prevent pests from gaining entry into your home or office. Our lawn insect control program provides your lawn with protection from harmful pests, such as chinch bugs, billbugs, webworms, and more.
We also offer protection from specific types of insects; our flea and tick control service will keep your pets and loved ones safe from these potentially dangerous pests. With our mosquito control program, we can protect your property throughout mosquito season. Our chigger control program provides your property with protection from chiggers all year round. We can also prevent grub development with our grub control program.
---
Give us a call to sign up for our lawn care and pest control services today!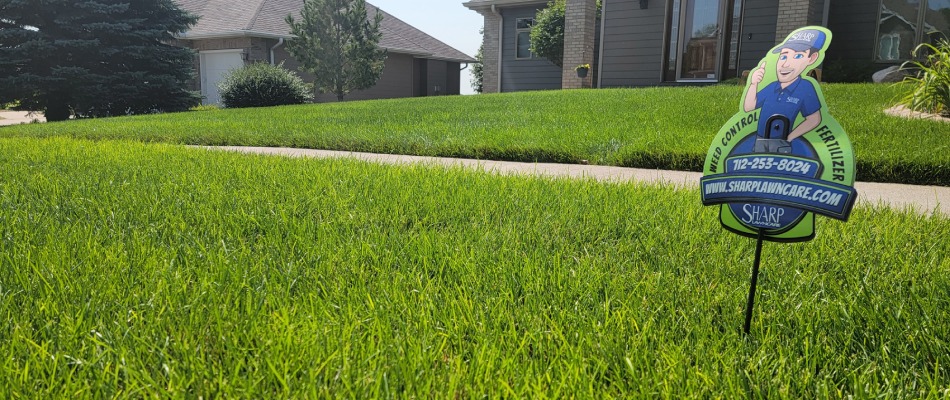 Since 2005, our experts at Sharp Lawn Care have provided premium services to the homes and businesses in Sloan, IA. We are committed to offering our customers efficient, reliable, and professional service every single time. Give us a call at (712) 253-8024 today if you are interested in signing up for our comprehensive lawn care and pest control services.