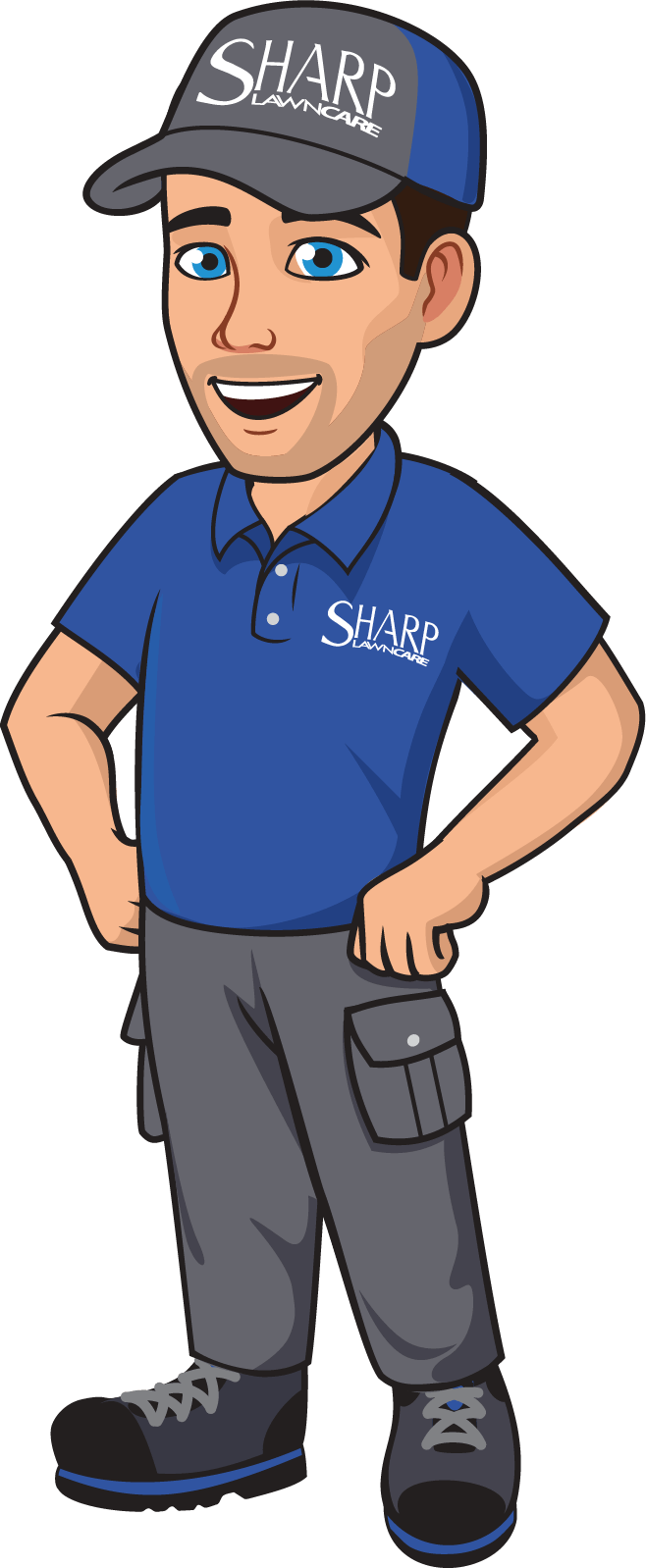 Becoming an
Employee at Sharp
What's In It for Me?
At Sharp Lawn Care, we're passionate about providing the best lawn and landscape solutions for residential, commercial, and HOA properties in the Sioux City and Sioux Falls areas. We are a well-respected company and have built that reputation off the foundation of employees that feel respected, heard, and appreciated. When you work with us, you can expect better-than-industry-standard pay and you'll be a part of an amazing culture and environment. Plus, you'll receive a ton of benefits including PTO, financial coaching, and more. Our core values guide us in every decision we make, and we follow the golden rule of treating others the way we want to be treated. We're hiring team members that value these same principles and are eager to work in a self-sufficient lawn care and maintenance career. If that sounds like you, apply today!
Year-Round Work
Self Sufficient Work Style
PTO
Health, dental, and vision insurance
Supplemental insurance
Financial coaching
Bonuses and incentive programs
Retirement with company match - SIMPLE IRA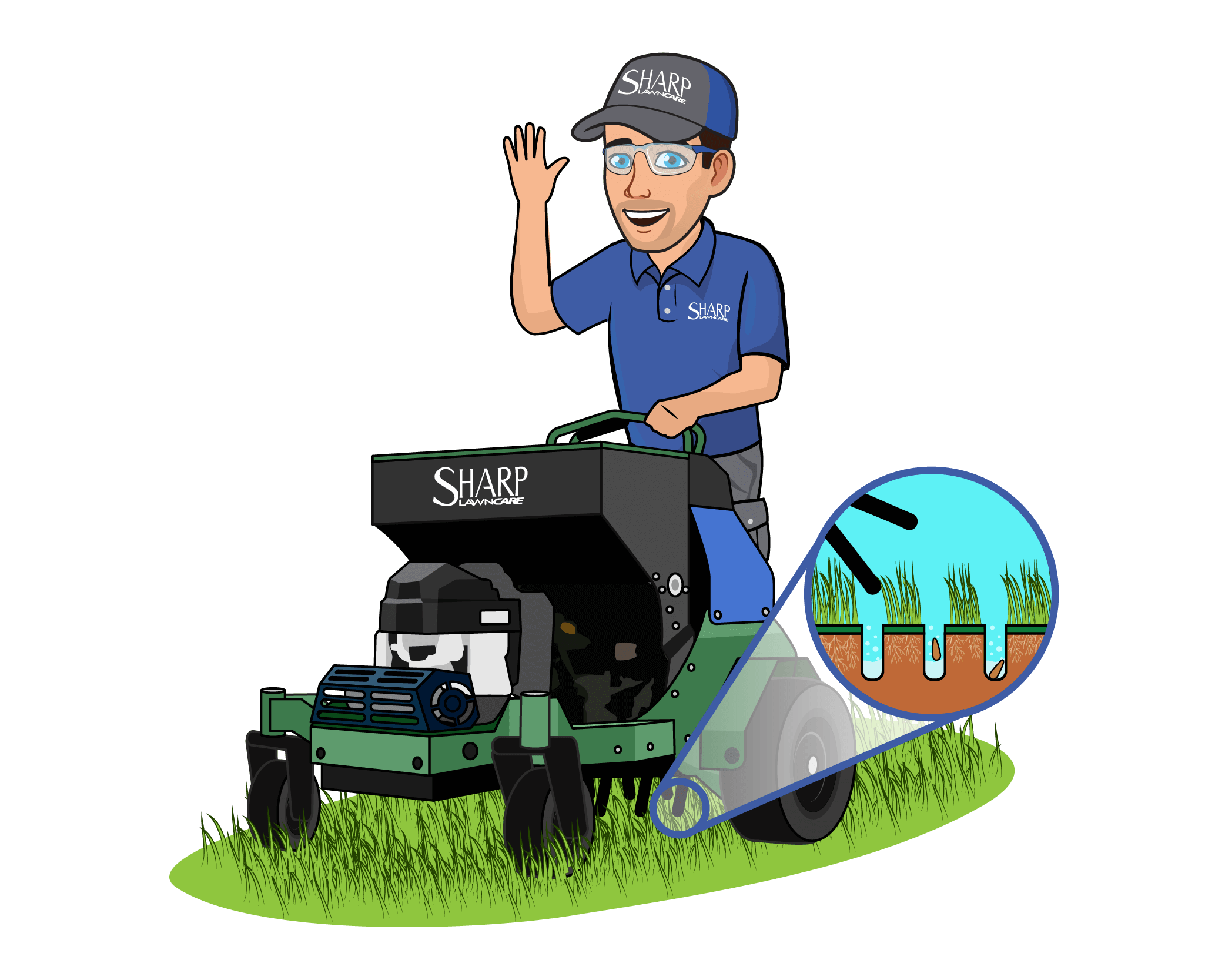 What Will You Do

in this Role?

1. Perform high-quality work.

Team members will have the satisfaction of knowing that they are working for a company with industry-leading customer satisfaction.

2. Work with clients.

Team members will have the opportunity to work with clients to advise and assist them towards the desired goals for their lawn.

3. Personal and professional growth.

Sharp Lawn Care team members receive professional growth and opportunity as well as personal growth and development throughout our career path.

You'll show up to work and coordinate with your manager on any pertinent details for the day. Then you'll head out in your assigned truck on your route, performing high-quality services to clients in both commercial and residential areas. As you wrap up for the day, you'll take your assigned truck back to the shop and complete all necessary steps to prepare your truck for the next shift, and communicate any final details about the day's work with your manager.
Dependable
Must be consistent and dependable without constant oversight
Team / People-Oriented
Must be willing to work as part of a team near others. Must be excited to learn and share knowledge amongst all members of the Sharp Lawn Care team.
Adaptable / Flexible
Enjoys doing work that requires frequent shifts in direction
Detail-Oriented
Must have the ability to notice details while carrying out tasks
Image Compliance
Maintain a clean, neat, and professional image through the use of approved Sharp Lawn Care uniforms
Equipment Management
Accountable for neglect and abuse of assigned equipment
Work Abilities
Work in or around situations near streets or parking lots with direct automotive traffic
Work near or around rivers or other bodies of water
Able to work overtime or extended shifts if required by Management
Ability to work in extreme weather conditions – working temperatures may be between 0 and 100 degrees.
Ability to work in direct sunlight for extended periods of time
Ability work in various weather situations, including extreme cold or wintry precipitation
Ability to consistently lift and carry 50 lbs.
Ability to bend, kneel, stoop, and twist continuously throughout the workday
Winter Season Operations
Plow snow using trucks or loaders
Shovel snow using hand shovels or snow blowers
Apply salt and other deicing agents to paved surfaces
Assist with pre-storm preparedness
Assist with post-storm cleanup, repairs, and maintenance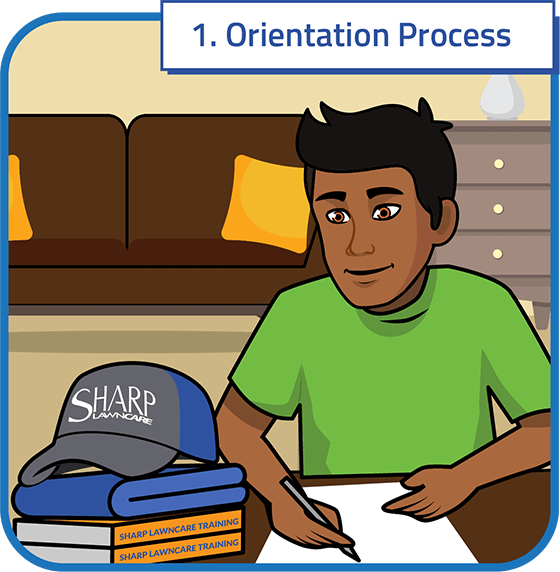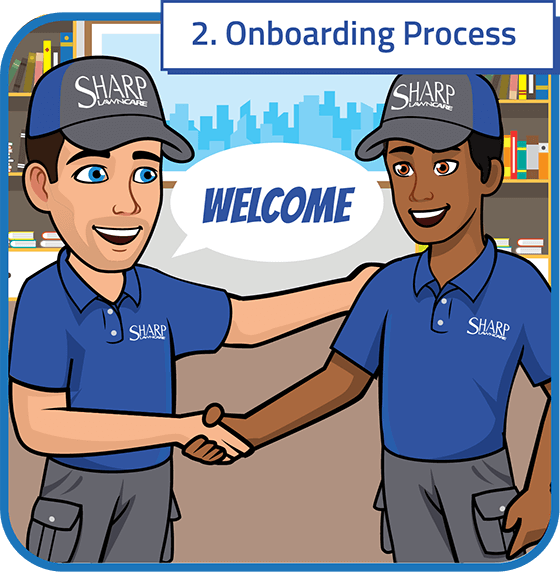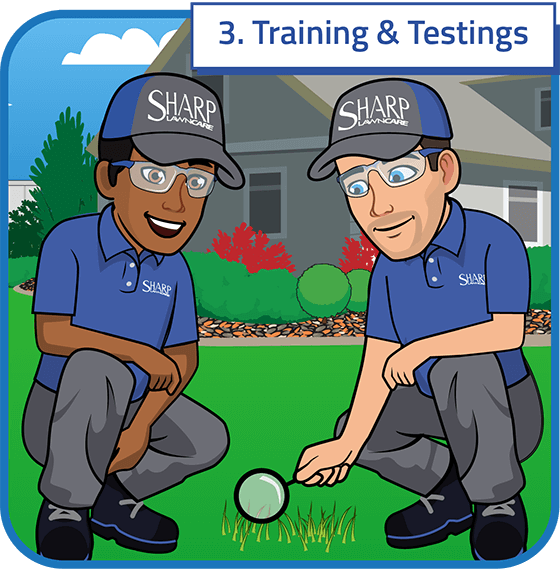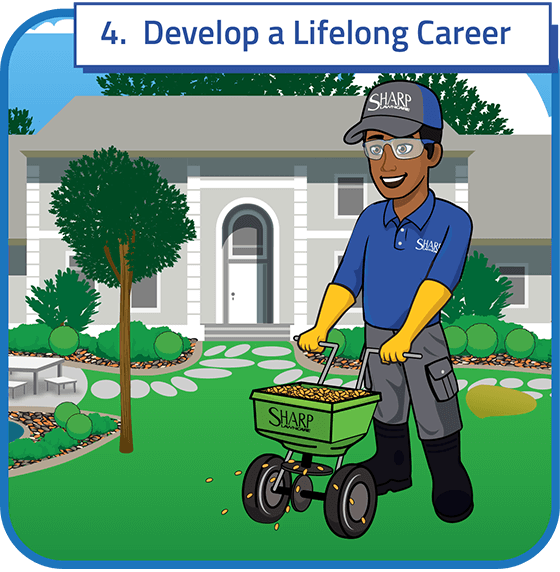 Become

a Pesticide Applicator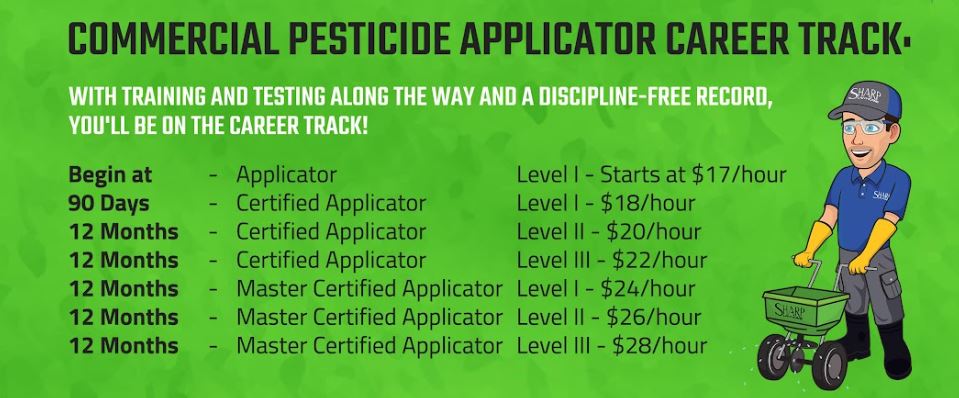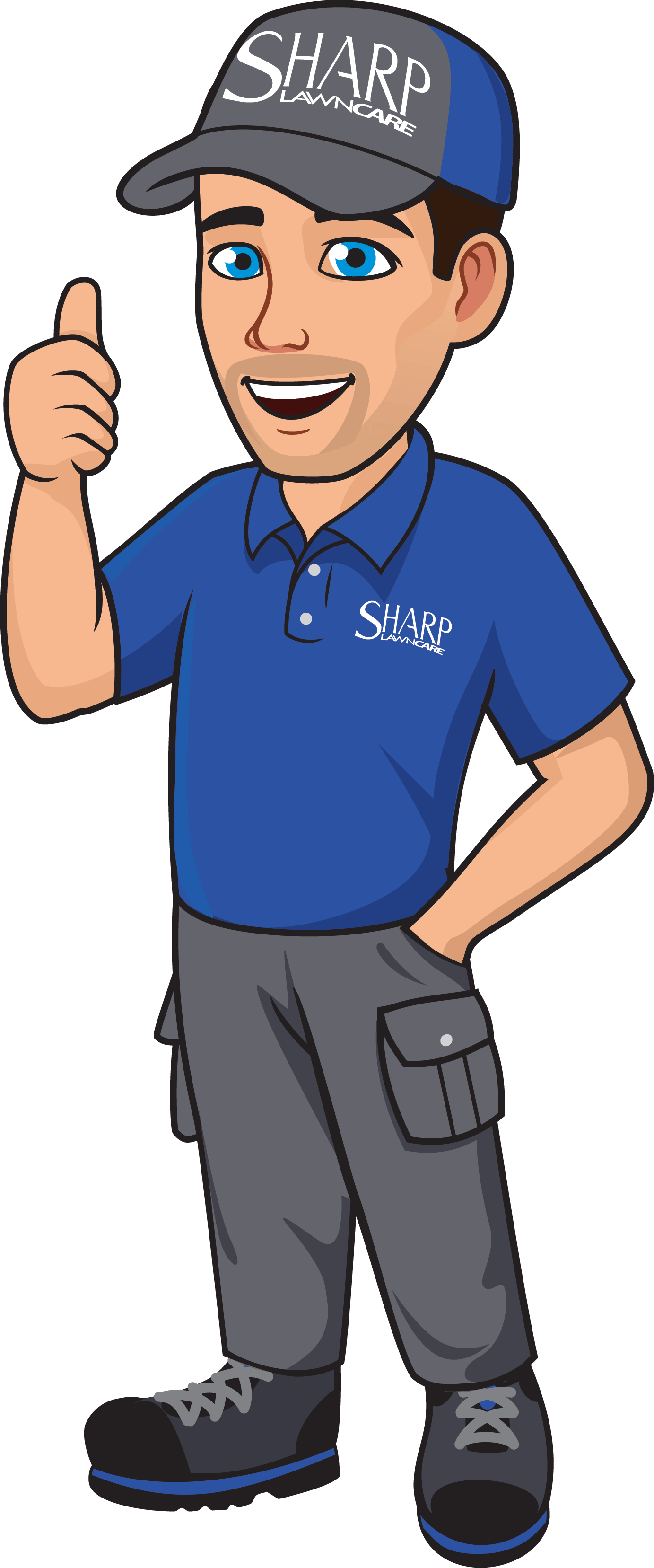 Our Core Values

Embolden Our Team Members to Be G.R.E.A.T.

Everything we do is built off the foundation that we are, and will continue to be, G.R.E.A.T. For us, these core values are:
Good - Treat others how you want to be treated

Real - Have integrity and be honest

Efficient - A constant desire to be better

Advantage - Provide value that makes us hard to replace

Trustworthy - Build confidence through consistent results
When you work for Sharp Lawn Care, you're working for a well-respected brand and company. We're dedicated to customer satisfaction, ensuring you can be confident of the services you provide and that our customers are nothing but excited to see our team members arrive. By holding the business to a high standard, it emboldens you to hold yourself to a high standard as well – resulting in better results and happier customers.
We're T.E.A.M. Players

Focused on Communication & Advancement.

Being T.E.A.M. players ensures our employees are respected, heard, and appreciated by following these principles:
Two-Way
Communication - Our management team will meet with employees every 90 days to check-in. They'll touch base with how you feel about your work and team, any ideas you have of improving teamwork or efficiency, career goals, training desires, and more.
Employee
Focused - We offer leading pay in the industry for each job and expertise level, first-rate benefits to care for yourself and your family, flexible scheduling – the list goes on. Sharp Lawn Care values our team members and their effort.
Advancement
Opportunities - We invest in employees early on with training to ensure you can meet every standard we have. From there, your levels of achievement and accomplishments will lead to promotions and career growth to meet your personal and professional development goals.
Management
that Cares - Our management team appreciates you as an employee and focuses on creating an excellent environment. The best teams are made of friends, so we encourage referrals and will give you a bonus if your referral is hired!
Working with us isn't just a job – it's a career. We strive to put you in the right job, investing time and training
into your growth so you can thrive long term.
Frequently Asked
Questions
Do I have to Provide My Own Transportation?
No! Our crews travel to each job site in Sharp Lawn Care vehicles. All you need to be responsible for is getting to the office.
Where Will I Be Working?
Exact specifics depend on where you are employed, but you will be working in local residential communities.
Can I Work with My Friends?
We understand that working with people you know can make a job more enjoyable, and we encourage you to invite your friends to join our team.
Is There a Uniform?
We will provide Sharp Lawn Care branded shirts, hats, and sweatshirts made available to purchase at a minimal cost. The employee is responsible for work attire pants, foul weather gear (e.g., rainwear), and any additional clothing items for cold weather.
How Will My Rate of Pay Be Determined?
Each job category has a range of pay associated with it. Variety of factors including:
Years of proven experience for the job you are applying for
If you qualify and meet our procedures to drive company vehicles
Your knowledge and ability to operate equipment classes
If you have special licensing, such as a CDL, Pesticide Applicator's License, ISA Arborist Certification, etc.
At Sharp Lawn Care, we believe happy employees are the foundation to great success for the company. We do everything we can to ensure our employees feel respected, heard, and appreciated. If you're as passionate, dedicated, and eager to grow as we are, you can experience this first-hand and be part of that success. If you're eager to start building your career in year-round lawn care and maintenance, apply online today!