Lawn Care Services for Properties Located in Sioux Falls, SD, Sioux City, IA & Surrounding Cities
Our lawn care services include fertilization, weed control, aeration, and more.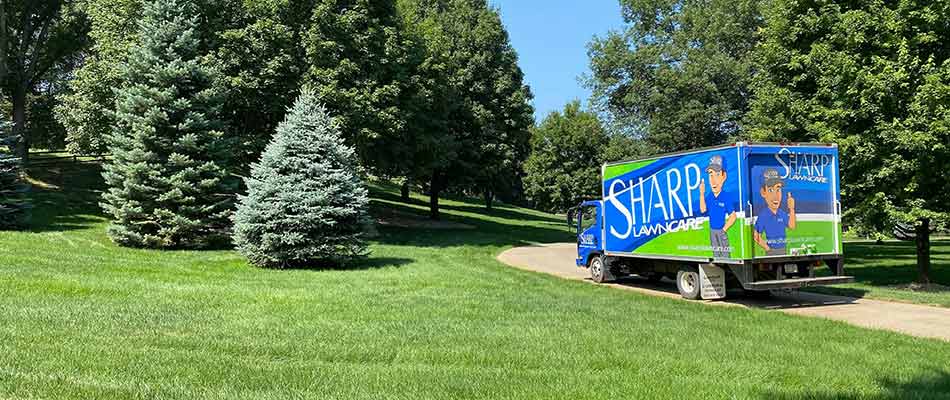 Regular lawn care services keep your grass, plants, and trees healthy and strong year-round. At Sharp Lawn Care, we are your lawn care experts. Our trained and licensed crew will craft an individualized plan to nurse your lawn back to optimal health with our many services, including fertilization, weed control, landscape bed weed control, lawn aeration, overseeding, lawn disease control, lawn insect control, grub control, and shrub and tree care. We proudly serve the Sioux Falls, SD and Sioux City, IA areas, including nearby cities like Tea and Harrisburg, South Dakota.
---
Fertilization
Regular fertilizer treatments are crucial because they supply your grass with nutrients to gain strength and survive the changing seasons. We offer 3 different fertilization programs, all of which include weed control treatments as well. The package you choose depends on if you also want to include grub control and additional weed control applications on top of our basic essentials package.
---
Weed Control
It might be easy for some property owners to turn their eyes away from their weeds, however, we highly suggest that you don't! If left untouched, weeds will slowly take over your lawn and garden and steal essential nutrients from your grass and desired plants. We offer the same three packages for our weed control program as we do for our fertilizer program, all of which also include the fertilizer treatments.
---
Landscape Bed Weed Control
Our team uses both pre and post-emergent weed control solutions to eradicate all weeds from your landscape beds. This service is offered within our bed and bush package, which is a 7-step program that runs from spring until fall and includes fertilizer, insecticide, weed control.
View Landscape Bed Weed Control
---
Lawn Aeration
By signing up for our Sharp aeration package, you will receive two separate visits from our team to perform aeration on your lawn. The first visit will be scheduled in early spring (March - April) and the second will be scheduled in late summer (August - September). Lawn aeration will loosen up your compacted soil so that the roots of your grass can have much easier access to essential nutrients, water, and sunlight.
---
Overseeding
Add on our overseeding service to our Sharp aeration package and you can expect to see new, full growth throughout your lawn where there were once patchy areas. We use a premium blend of turf type tall fescue seeds to give you the highest quality lawn.
---
Lawn Diseases
Common lawn diseases that we see in the Sioux Falls, SD and Sioux City, IA areas include rust, powdery mildew, and leaf spot. Our experts will help you identify exactly what the disease is so that we can offer tailored solutions. Once we rid your grass of disease, we can curate a future plan for regular lawn care services to avoid this problem from happening again.
---
Lawn Insects
Enroll in our lawn defender package to rid your property of insects like chinch bugs, billbugs, webworms, and more. This package includes 5 separate treatments of bifenthrin, which targets over 75 types of insects. You can rest easy knowing that the insecticides we use are eco-friendly and approved by the Department of Agriculture.
---
Grub Control
Grubs are never something you want to find destroying your lawn. That is why we offer both preventative and curative measures to ensure that your lawn is protected. To receive our grub control treatments, you can either sign up for our Sharp plus package or our Sharp premium package.
---
Shrub & Tree Care
Our experts are trained to care for your shrubs and trees to ensure that they continue to grow healthy and strong. Our fertilizer and insect control treatments for your trees and shrubs are offered through our bed and bush package. This includes 7 treatments that are spread out throughout the year.
---
Soil Care Package
We take care of your soil to ensure it is in the best condition for your grass. This package includes 6 different applications full of microorganisms, nutrient enhancers, microbial food, and much more.
---
Vegetation Control Service
Overgrown vegetation like weeds, vines, and heavy brush can quickly take over your property. Schedule our vegetation control service to help remove unwanted vegetation that is making your property messy and unsafe.
View Vegetation Control Package
---
Lawn Inspector Package
Let our experts keep an eye on your lawn throughout the year to ensure any issues are caught early. This package includes an inspection and a soil test in the spring and two other inspections throughout the year.
---
SharpBot Mowing
Say goodbye to noisy visits from a lawn mowing crew - our SharpBot robotic lawn mower uses innovative technology to keep your grass maintained and at the perfect height at all times. It even uses ultra-silent technology so it won't disrupt you or your neighbors.
---
Sign up for any of our lawn care services. Call us today!
At Sharp Lawn Care, we have been serving the Sioux Falls, SD and Sioux City, IA areas since 2005. Our team knows a thing or two about what your lawn and landscape need to thrive. If your property is located in the Sioux Falls area, give us a call today at (605) 251-6880. If your property is located in the Sioux City area, give us a call today at (712) 253-8024.