SharpBot Lawn Mowing Service in the Sioux City, IA & Sioux Falls, SD Areas
Our SharpBot robotic lawn mower keeps your lawn "weekend perfect" every day of the week!
Have you ever wished for a picture-perfect lawn at all times without having to do any of the work? We get it! Even when you are enrolled in a weekly professional mowing service, by day 5 or 6, your lawn is in desperate need of some TLC again. The SharpBot robotic mower will solve that problem!
The SharpBot uses innovative technology to mow your grass every day or as needed in order to keep your lawn in constant pristine condition. Additionally, our crew will visit your property in Sioux City, IA or Sioux Falls, SD weekly, bi-weekly, or as needed to perform some touch-ups including edging and string-trimming. Because the SharpBot follows a set boundary installed on your property by our crew and has features like automatic charging and object detection, you can be completely hands-off when it comes to keeping your lawn perfectly mowed at all times.
---
What is the SharpBot lawn mower and how does it work?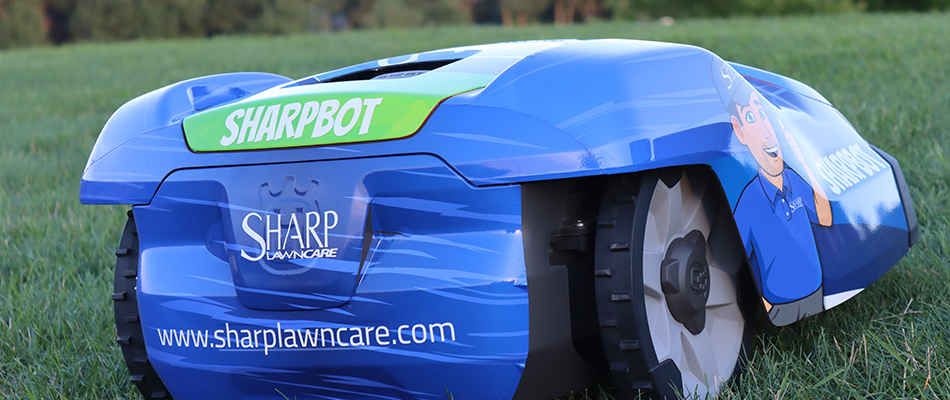 The SharpBot is a robotic lawn mower, meant to keep your grass at the perfect height at all times without you ever having to lift a finger. Once the boundary wires are installed on your property and our crew programs the SharpBot to fit the needs of your lawn, that's it! You can watch the SharpBot work its magic on your lawn daily. It uses innovative technology to stay within the set boundaries, find its way back to its charging station automatically, avoid obstacles, and more. Our team will stay on top of your SharpBot and control it to ensure your lawn stays pristine at all times.
---
Frequently Asked Questions About our SharpBot Lawn Mowing Service:
How loud is it? The SharpBot offers ultra-silent technology to maintain peace and quiet for you and your neighbors!
How does it know if it is about to run into an object? The SharpBot has built-in sensors that will detect objects and lower the speed of the mower to avoid hard collisions. It also has a front bumper that will protect it from any run-ins with trees, shrubs, or other objects.
Can somebody steal the SharpBot from my property? The SharpBot's theft protection feature will sound an alarm any time the mower is picked up. This alarm can only be deactivated with your unique PIN code. Additionally, there is GPS tracking included with every SharpBot. This means our team can locate the SharpBot from our office.
How often does it need to be charged? When the SharpBot is not mowing your lawn, it is parked at the home base. It charges as needed, so it's always ready to go when your lawn needs to be mowed.
Is the SharpBot right for me? We highly suggest our SharpBot lawn mowing service to those who are looking for a long-term mowing solution rather than a one-time mow.
Will the SharpBot work for my property? It is important to note that we are unable to install the SharpBot if your property has a fence, any terraces that can only be accessed by steps, or an invisible dog fence with wires installed underground. If there are any other underground lines buried above 2 inches, they may be damaged. We also cannot install the SharpBot if you are renting your property and do not own it.
How does pricing work? There are no up-front fees when you install the SharpBot on your property. It's simple! There will be a weekly auto-charge from April through November when the SharpBot is actively working its magic on your lawn.
---
The SharpBot Installation Process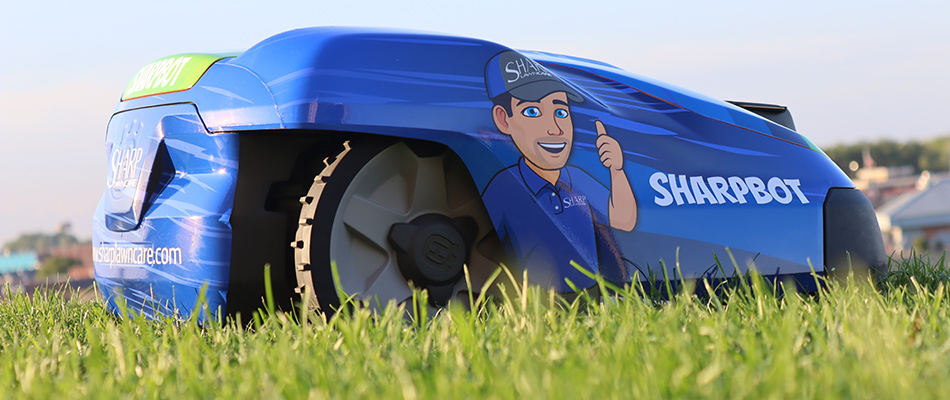 When you sign up for our SharpBot service, we'll schedule an initial visit to your property. During this visit, we will prepare your lawn and install the SharpBot.
The installation process includes:
Placing a cable a few inches underground along the perimeter of your yard
Installing wires across driveways and sidewalks in the expansion joint cracks if needed (the cracks will be caulked to protect the cable and prevent damage)
The SharpBot mower can handle slopes up to 40 degrees. If your property has slopes that are between 41 and 70 degrees, we can install a specialty SharpBot designed for those areas.
---
Our SharpBot service plan includes daily lawn mowing and regular site visits from our crew.
From April through November, the SharpBot will mow your lawn every day or as needed and auto-charge every week. Additionally, our service plan includes weekly, bi-weekly, or as-needed visits to your property to edge, string-trim, and blow debris off of your hardscapes like your walkways and driveway.
Our team will pick up and store your SharpBot over the winter months and reinstall it the following spring.
---
Call our team today to get started with our SharpBot robotic lawn mower.
By installing the SharpBot robotic mower on your property, your grass will be perfectly trimmed every day of the week! We proudly offer our SharpBot service to residential properties in the Sioux City, IA and Sioux Falls, SD areas. To take advantage of the SharpBot, you must be enrolled in one of our lawn care packages (Sharp Essentials, Sharp Plus, or Sharp Premium). If you are in the Sioux City area, give our team a call at (712) 253-8024. If you are located in the Sioux Falls area, give our team a call at (605) 251-6880.