Mosquito Control for Properties in Sioux Falls, SD, Sioux City, IA & Surrounding Cities in SD
We use bifenthrin to take care of the mosquitoes on your property.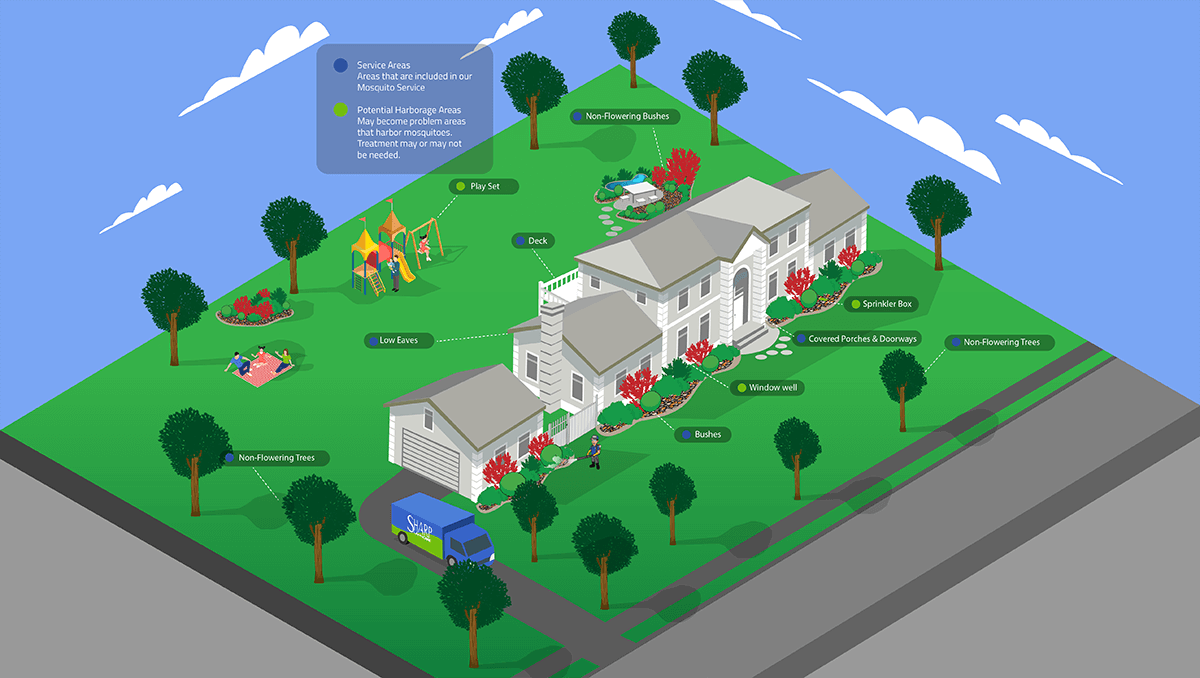 Mosquitoes are a nuisance when you are trying to enjoy your time outdoors. Even worse, they could potentially be carrying and transferring dangerous diseases. Our company is in the business of protecting you, your family, and your employees from these dangerous mosquitoes during mosquito season, which starts in mid-spring and ends in early fall. Our process is very involved; it includes an initial inspection and 6 different monthly treatments of bifenthrin to ensure that your property is thoroughly protected. We offer mosquito control services to properties located in Sioux Falls, SD and Sioux City, IA as well as nearby cities in South Dakota such as Tea and Harrisburg.
---
Our Mosquito Treatment Process
The mosquito control process begins with an inspection. Our crew will take a look around your property and identify any harborage areas. These include places where mosquitoes are likely to breed, nest, and hide such as tall grass, landscape beds, areas with standing water, and more.
Many property owners think that mosquito control means spraying a blanket treatment across your whole property. However, at Sharp Lawn Care, we know that this is not the most effective solution. Instead, our crew will spray the areas of concern that we identified during our inspection. This treatment is precise and targets specific areas where mosquitoes tend to gather. Within 24 hours, our treatment should eradicate all existing mosquitoes and create a barrier to keep new mosquitoes away.
That's not all! We will ensure that your property stays protected throughout the mosquito season by returning to do a check-up on your property every month. At each of our check-ups, we will re-treat the known harborage spots and scan your property for any new troubled spots that may have developed since the last treatment.
Normal rainfall will not impact our mosquito treatments. However, if our area experiences abnormal rain conditions and the treatment is affected, we will be in touch with you about how to rectify that.
---
When do we treat your property for mosquitoes?
Mosquito season in the Sioux Falls, SD and Sioux City, IA areas begins around mid-spring and lasts until early fall. It is so important for your property to stay protected the whole time, which is why we spray every month throughout the entirety of our mosquito season. Yes, that means 6 separate treatments to keep you and your family safe from mosquitoes!
---
We use bifenthrin to eradicate and prevent mosquitoes on your property.
Bifenthrin is the active ingredient in many pest control products and it is highly rated in the industry. It is widely used among professional companies because of how effective it is. Bifenthrin will actively eradicate any present mosquitoes at the time of the application and, for about a month, it will prevent any new ones from coming to the area to nest and breed. After about a month, it will wear off and will need to be replenished. That is why our crew returns monthly to ensure that your property is never left unprotected.
---
Looking for effective mosquito control? Call us today!
Our company has been in the pest control business since 2005. You can count on us to protect your property from mosquitoes all season long! We proudly serve the residential and commercial properties located in the Sioux Falls, SD and Sioux City, IA areas, as well as surrounding cities in South Dakota like Tea and Harrisburg. If your property is located in or around Sioux Falls, SD, give our team a call today at (605) 251-6880 to schedule our mosquito control treatments! If you live in the Sioux City, IA area, call (712) 253-8024.