Keep Your Lawn Looking its Best with Our Lawn & Pest Control Services in Harrisburg, South Dakota
We provide exceptional lawn care, effective pest control, and Christmas light installation services to property owners in Harrisburg, SD.
Harrisburg, South Dakota is a beautiful little city that is part of Lincoln County and is located about 10 miles outside of Sioux Falls. Whether boating at Lake Alvin Recreation Area, golfing at Spring Creek Country Club, or walking the trails at Good Earth State Park, there are numerous ways to enjoy the outdoors in Harrisburg. It has a population of over 6,000 people, which is nearly twice as many people as there were in 2010. The secret is starting to get out - Harrisburg is a great place to live!
At Sharp Lawn Care, we have proudly been offering our services to residential, commercial, and HOA properties in Harrisburg since 2005. We offer lawn care services such as fertilization, weed control, lawn aeration, overseeding, and much more. We also provide pest control services to prevent fleas, ticks, mosquitos, chiggers, and more from invading your lawn, home, or business. Plus, we offer Christmas light installation services so your property can be a part of the holiday cheer.
---
Our Lawn Care Services Will Ensure Your Lawn Stays Healthy & Beautiful
Harrisburg is a gorgeous area, so it only makes sense that you'll want your lawn to be beautiful too. However, lawns don't just become attractive and healthy on their own; it takes a lot of work. That's where we come in. Our lawn care professionals are experts at diagnosing any problems and will know exactly what service is needed to rectify them. We offer a variety of comprehensive lawn care services that are designed to either nurse your lawn back to health, maintain its appearance, or prevent insects from harming it, including:
---
Keep Pests at Bay with Our Pest Control Services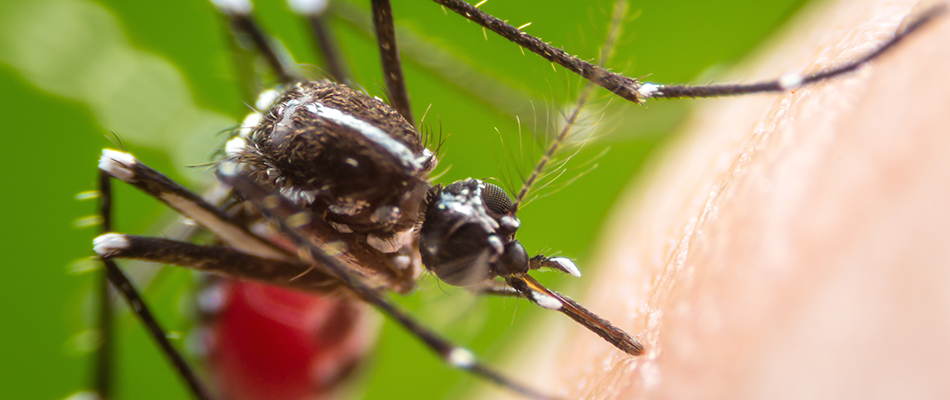 Harrisburg is surrounded by nature, making it a perfect place to live for those who enjoy the fresh air and beauty of the outdoors. While being surrounded by nature brings all those perks, it also means that there will be an abundance of bugs too. Pests such as fleas, ticks, and mosquitos are not only annoying, they can also be dangerous as they can carry and transmit diseases. Other pests like chiggers don't transmit diseases, but their bites cause skin irritation and itchy rashes. Our company is able to treat your lawn as well as the perimeter of your home or business in order to keep these pests under control. We offer the following pest control services:
---
Christmas Light Installations Bring Joy to the Holiday Season
There's nothing like driving down a road and seeing every home lit up during the holiday season. At Sharp Lawn Care, we offer Christmas light installation services to residents in the Harrisburg, SD area. This service will allow you to take part in the joyful season without having to do the labor or take on the risks that come with hanging up Christmas lights. This is a collaborative service, and we will work hand-in-hand with you to design a custom lighting display that you'll absolutely love. In addition to just installing Christmas lights, we can also install:
Wreaths
Garland
Bows
And more!
We will also remove your Christmas lights after the holiday season ends and store them for you for next year!
---
Contact us today to schedule your lawn care, pest control, and holiday lighting services!
At Sharp Lawn Care, we have been providing high-quality services to the Harrisburg, SD community since 2005. Our team of knowledgeable professionals understands how to care for your property so that it stays looking great all year long. If you're ready to sign up for our lawn care services, pest control services, and/or holiday light installation services, give us a call today at (605) 251-6880.