Comprehensive Pest Control & Lawn Care Services in Hartford, SD
We've been providing top-of-the-line services to your neighbors since 2005!
With a city motto like "On the edge of everything," it's clear that Hartford, SD is a unique place to be. Hartford is a beautiful place that is surrounded by nature. Residents and visitors to this area can take advantage of outdoor activities such as boating, fishing, and swimming on Wall Lake. A time capsule was buried here in 1990 – celebrating the 100th anniversary of South Dakota's statehood – that will be opened June 2089, and one thing is for sure: It'll tell the tale of a wonderful, growing city that loved nature.
We're honored to be able to serve the vibrant community of Hartford, SD and surrounding cities with professional exterior pest control and lawn care services. Our comprehensive pest control services will protect your property against pests and our expert lawn care will bolster the health of your grass, so you can be confident it'll thrive year-round!
---
Our professional pest control services can guard your property against pests like fleas and mosquitos.
Our professionals are well-versed in how to perform safe and thorough exterior pest control applications so your property can stay pest-free all year! Our flea and tick control process involves an initial inspection to understand the scope of the problem and identify trouble areas. Then, we begin a multi-round treatment process to ensure full effectiveness! Mosquito control will work much the same way, with an initial inspection and six different monthly treatments to thoroughly protect your property.
With perimeter pest control, we'll use an eco-friendly insecticide to lay a protective barrier around your home or office building that guards against over 75 types of insects, such as ants, cockroaches, spiders, fleas, and chiggers. For more extensive chigger mite issues, we offer a full chigger control service to fully eliminate them from your lawn.
---
We offer lawn care services like fertilization, disease control, and more, to boost the health of your lawn!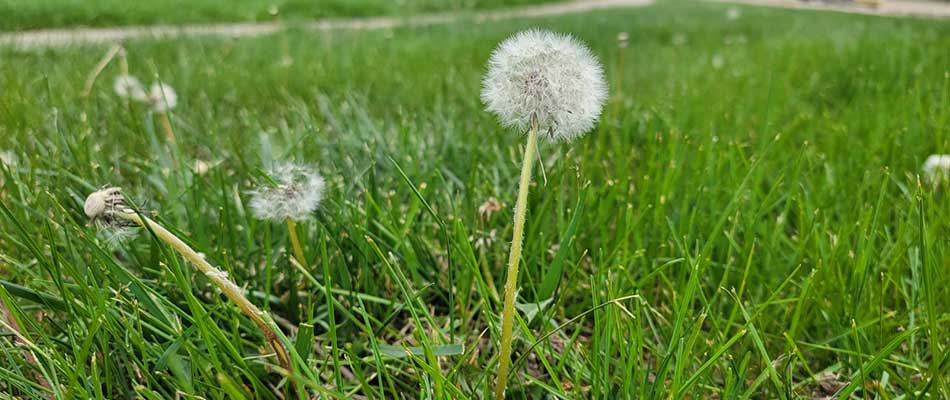 Expert lawn care is going to be what elevates your lawn from good to exceptional, and we offer all the services you need to accomplish that. Our team has developed programs to knock out lawn diseases before they wipe out your lawn, and protect against lawn insects like chinch bugs and billbugs. We also offer preventative measures such as our grub control service, which will prevent these pesky larvae from destroying your grass!
Our fertilization and weed control program will bolster your lawn throughout the year with resources like organic biosolids, micronutrients, and iron while tamping down weeds that are trying to steal those nutrients and take over. We also offer aeration to rejuvenate your lawn's soil, creating channels for nutrients, oxygen, and water to flow through and nourish deep roots.
We can give the gift of a weed-free life to your landscape beds with our landscape bed weed control service so that your plants can thrive unhindered by weeds! And of course, we can't forget about your shrubs and trees. Our shrub and tree fertilization will provide all the nourishment they need to thrive, with shrub and tree insect and disease control to keep them just as protected as the rest of your lawn.
We recommend pairing aeration with our overseeding service to take advantage of the freshly-formed channels that aeration provides.
---
We offer specialty packages to monitor soil health, balance soil pH, and prevent vegetation growth.
We've created specialty packages so you can have all your bases covered. Our lawn health package includes three lawn inspections and a lab soil test every year to monitor your soil's health and stay up-to-date on what it needs to nurture your plants. We offer a vegetation control service to provide comprehensive vegetation prevention, control, and suppression to areas with gravel, walkways, fences, parking lots, and more so that weeds, vines, and similar plants never get a foothold on your property. Finally, our soil care package will treat your soil with a conditioner to balance the pH with a blend of micro-organisms, nutrient enhancers, a soil replenisher, and more. This treatment will upgrade the quality of your soil, allowing your grass to maximize available nutrients and grow freely!
---
Call us today for a quote on any of our services, including fertilization and perimeter pest control!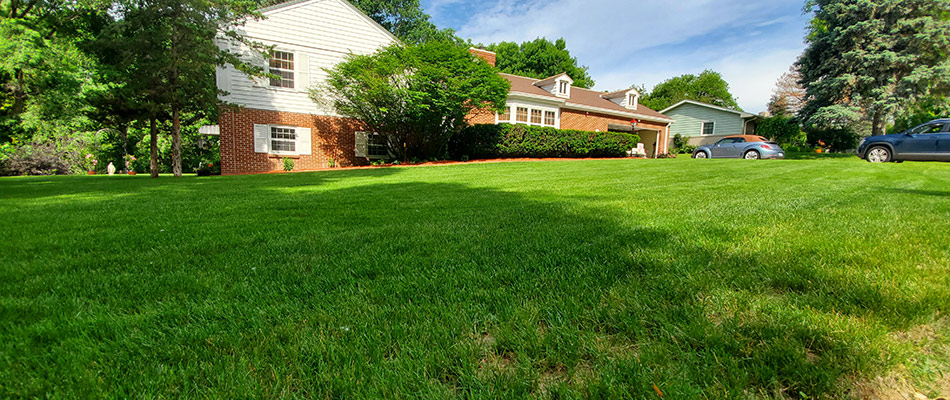 With so many great services and packages that work in tandem to strengthen and safeguard your lawn and landscape, Sharp Lawn Care is your one-stop shop for exterior pest control and lawn care! If you're in Hartford, SD or a surrounding city and ready to get started, our team is on standby, locked and loaded with top-of-the-line products and services. Call us today at (605) 251-6880 to get a quote on anything from fertilization to perimeter pest control!