Lawn Care & Pest Control Services for Residential, Commercial, & HOA Properties in Sioux City, IA
We offer top-of-the-line lawn care and pest control services and also provide Christmas light installation services.
Sioux City, Iowa is a booming city that is located in Woodbury County and is situated along the navigational head of the Missouri River. It is home to over 85,000 residents, making it the fourth-largest city in Iowa. Sioux City features an abundance of shopping, dining, and recreational opportunities, and is home to several cultural points of interest including the Sioux City Public Museum, Sioux City Art Center, and the Sergeant Floyd Monument.
At Sharp Lawn Care, we are proud to offer our lawn care and pest control services to the Sioux City, IA area. These services are designed to keep properties looking great and to control pests from taking over your yard and entering your home or business. We even provide Christmas light installation services so your home will be bright and part of the joyful holiday season.
---
Our Lawn Care Services Will Keep Your Property in Tip-Top Shape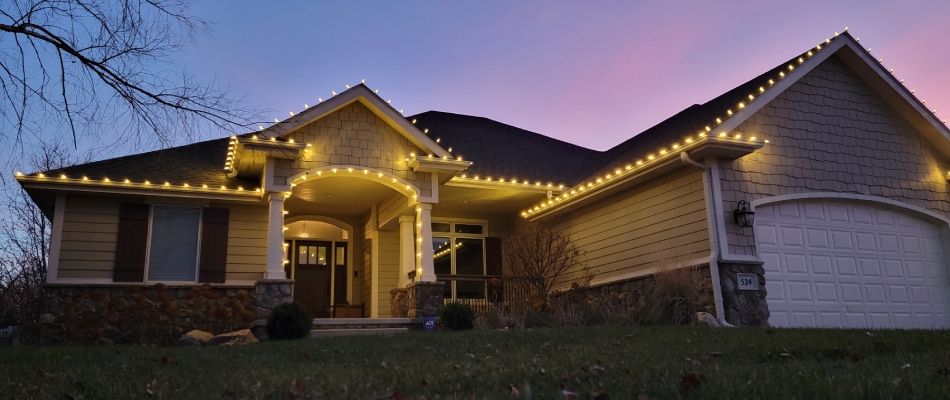 Fertilization: In order for lawns to flourish, they need to be supplied with an abundance of nutrients. We offer three different fertilization packages, so you can choose the right package to meet your lawn's individual needs.
Weed Control: Weeds are a big problem because they not only bring down your lawn's appearance, they also steal nutrients from your plants and grass. We offer weed control packages that will eliminate these nuisance plants from your property.
Landscape Bed Weed Control: Your landscape beds should be the focal point of your lawn - don't let weeds ruin it. This service will keep your landscape beds free of weeds so they can stay healthy and attractive.
Lawn Aeration: Compacted soil makes it hard for nutrients to reach the roots of your lawn. Our aeration service loosens your soil, ensuring that your grass has access to everything it needs to thrive.
Overseeding: By spreading grass seeds across your lawn, we will encourage new grass growth and help your lawn to become dense and luscious.
Lawn Disease: We can treat a variety of lawn diseases including leaf spot, rust, and powdery mildew to keep your lawn nice and healthy.
Lawn Insect Control: Our 5-treatment lawn insect control program will help to eliminate common lawn insects found in the Sioux City, IA areas such as chich bugs, billbugs, webworms, and green bug aphids.
Grub Control: We offer both preventative and curative grub control treatments to get rid of grubs so they won't destroy your lawn's root system.
Shrub & Tree Care: Our 7-step tree and shrub care package will keep your trees and shrubs healthy, insect-free, and looking great.
Soil Care Package: Unhealthy soil means unhealthy grass! We'll get your soil in good health with our soil enhancer treatments. This package includes 6 applications, stretching from early spring through early fall.
Vegetation Control Service: We'll help you achieve and maintain a clean and manicured property with our vegetation control service. We remove unwanted vegetation utilizing both pre- and post-emergent treatments.
Lawn Inspector Package: Our experts will keep their eyes on your lawn throughout the year and handle any issues as soon as they arise. This package includes three visits throughout the year, one of which includes a soil test.
We can keep your lawn beautifully manicured with our SharpBot mowing service.
---
Our pest control services tackle fleas, ticks, mosquitoes, and more.
Flea & Tick Control: We offer Lawn Defender and Home Defender packages that are designed to keep fleas and ticks off your lawn and out of your home.
Mosquito Control: Our crew will identify any areas on your property that mosquitos like to breed, nest, and hide in. Then, we will spray a treatment that not only kills them but will also create a barrier to keep new mosquitos away.
Chigger Control: When these microscopic pests bite you, it will irritate your skin and you could develop an itchy rash. We can eliminate chiggers from your property, so you won't have to worry about them.
Perimeter Pest Control: We will spray our eco-friendly insecticides around the perimeter of your home or business to keep insects that are common to the Sioux City area out. Common insects that this service will help to eliminate include ants, cockroaches, flies, spiders, and more.
---
Give us a call today to schedule our services for your home, business, or HOA property in Sioux City, IA.
We have been providing exceptional lawn care and pest control services to the Sioux City, IA area since 2005. If you are looking to keep your lawn healthy or you need to keep pests off your property and out of your home, business, or HOA community, give us a call today at (712) 253-8024. We look forward to working with you to meet all of your lawn care and pest control needs.