Top-Notch Lawn Care & Pest Control Services Offered in Hawarden, IA
Our company is your one-stop shop for all of your lawn care and pest control needs.
Hawarden is a city located in Sioux County, Iowa. This city sits along the Big Sioux River and has a population of around 2,700 people. In Hawarden, there are plenty of opportunities to learn about the city and its natural environment; some places you can do that include the Prairie Woods Nature Center and the Oak Grove State Park.
Our team at Sharp Lawn Care proudly provides quality lawn care and pest control services to the property owners in Hawarden. Our comprehensive services are designed to keep your lawn strong, healthy, and free of pests. The services we offer include fertilization, weed control, aeration, overseeding, shrub and tree care, perimeter pest control, lawn insect control, and more.
---
Enhance the Overall Health of Your Lawn with Our Lawn Care Services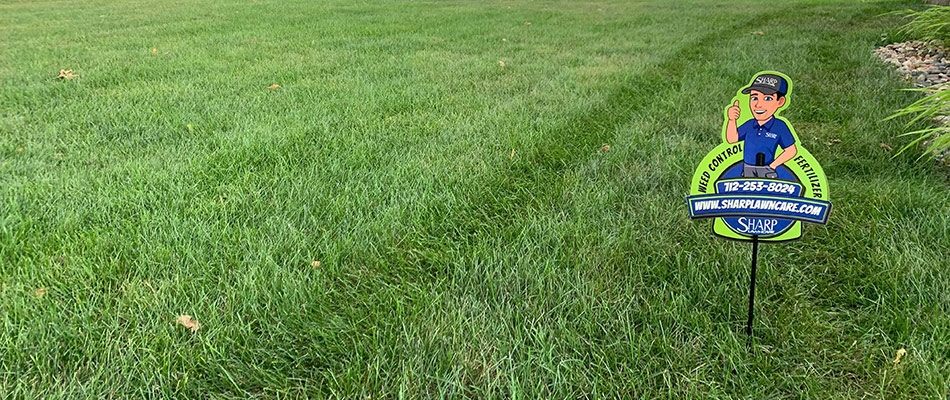 We offer fertilization programs that consist of multiple applications of a slow-release, nutrient-rich fertilizer designed to provide your lawn with lasting nourishment. This program includes weed control treatments as well; we utilize both pre-emergent and post-emergent weed control to get rid of existing weeds and keep new ones from growing. We also offer our vegetation control service, which is designed to take control of excessive weeds, unwanted vines, and heavy brush.
For our aeration service, our team removes small cores of soil from your lawn in order to loosen up compacted soil. This process also promotes better airflow and the proper absorption of water and nutrients. To fix any patchiness on your lawn, we employ our overseeding service; this is where we spread a premium tall fescue grass seed blend over your entire property to fill in those bare patches.
We also offer a few packages that include important lawn care services in one convenient program. Our lawn health package consists of 3 thorough lawn inspections done by our experts and a yearly lab soil test. With our soil care package, we strengthen your soil by providing it with vital nutrients, microbe food, and a pH-balancing conditioner.
We also offer lawn disease control, which protects your lawn from diseases like rust, powdery mildew, and leaf spot.
---
Never Worry About Maintaining Your Landscape Again
Our landscape maintenance services include landscape bed weed control, which consists of both pre-emergent and post-emergent weed control treatments to keep your landscape beds weed-free. We offer shrub and tree care as well; this service includes regular fertilization, insect control, and disease control treatments for your trees and shrubs.
---
Save Your Property from Pests with Our Pest Control Services
Our perimeter pest control service consists of eco-friendly pest control treatments that target over 75 different kinds of insects. We are able to exterminate chinch bugs, billbugs, webworms, and more with our lawn insect control program.
We also offer pest control programs that target specific kinds of pests such as our flea and tick control program, which protects your property from fleas and ticks all season long. Our chigger control
service includes 5 separate chigger control treatments that will keep your property safe throughout the entire year. For our
grub control
program, we will proactively combat grub development by applying treatments in the late spring.
Our mosquito control program is designed to provide full results within 24 hours!
---
Sign up for our comprehensive lawn care and pest control services today!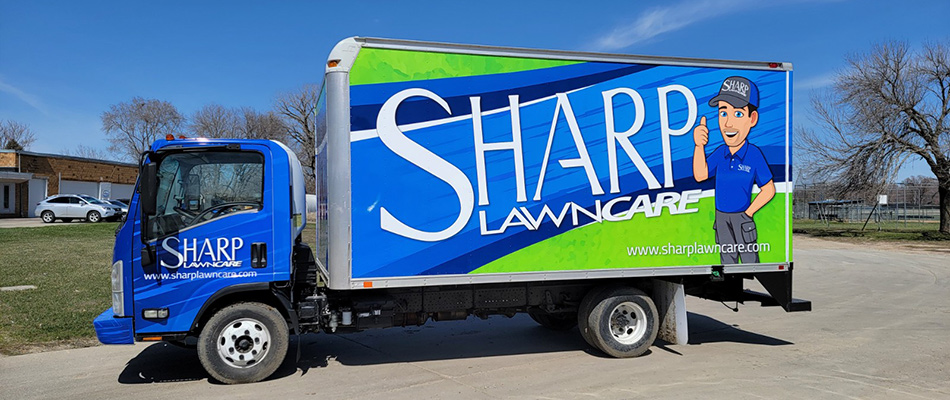 At Sharp Lawn Care, we have been serving residential, commercial, and HOA property owners in Hawarden, IA since 2005. Our team values hard work, professionalism, and reliability and we will show you that through our quality service. If you are interested in completely upgrading your lawn, call us at (712) 253-8024 to sign up for our comprehensive lawn care and pest control services today!