What It Takes to Have a

Sharp Lawn

There's nothing more eye-catching than a sharp, green lawn. However, the road to achieving such a lawn in Sioux Falls, SD can be long and difficult to navigate. If you're looking to create a lush, green lawn for your property but don't know where to start, then you'll want to follow these steps.

Start by aerating your lawn to provide the roots of your grass with access to the vital nutrients your grass needs to grow. Then you want to strengthen your lawn with fertilizer and apply weed control to keep weeds from appearing during the growing season. Afterward, you want to overseed your lawn in the fall to promote new growth. You'll also want to maintain your lawn by mowing and watering it regularly. By following this lawn care road map, you'll end up with a Sharp Lawn!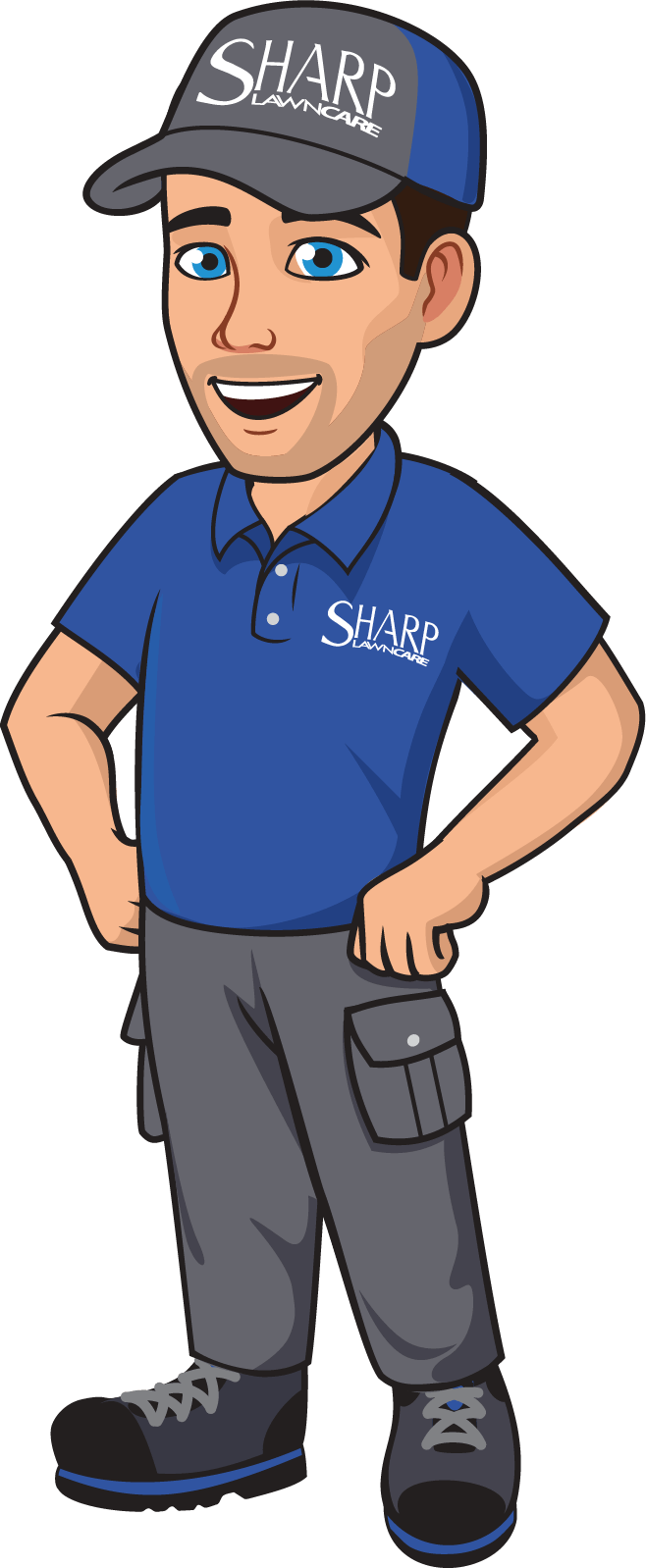 Sharp Lawn Care's
Portion
We provide essential lawn care services that boost your turf into a healthy state on your roadmap to a Sharp Lawn.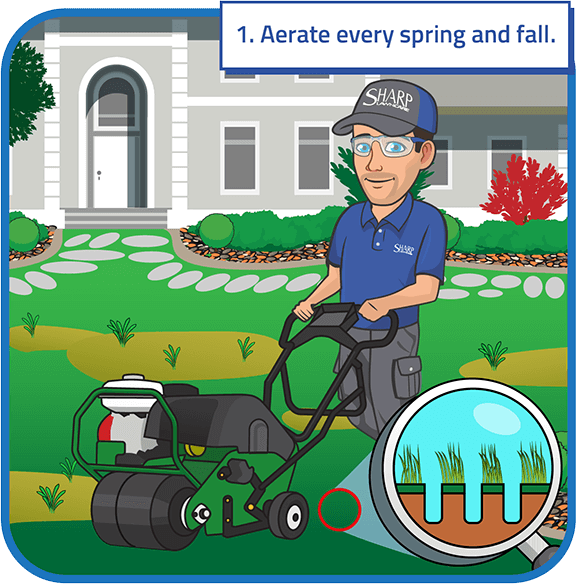 Core aeration creates access to essential nutrients.
The first step on this journey towards a Sharp Lawn is to schedule core aeration. Core aeration is a process where specialized equipment is used to remove "cores" from your soil which creates tiny holes in your lawn. This process opens passageways that allow essential nutrients and resources to easily access the roots of your grass. Core aeration should be done every spring and fall to ensure your grass has access to all the nutrients and resources it needs to grow and thrive.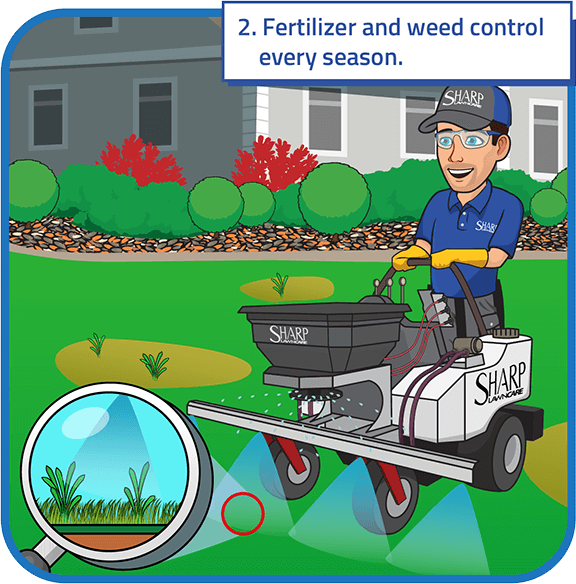 Strengthen your lawn with fertilizer and weed control.
Next, you want to strengthen your lawn with lawn fertilizer and protect it from weeds with weed control. Fertilizer provides your grass with nutrients like nitrogen, phosphorus, and potassium. These nutrients are integral to your grass's growth and will strengthen its resistance to pests, diseases, and environmental stressors. Weed control is used to stop stubborn weeds from infesting your lawn. Weeds steal essential nutrients from your grass, so by keeping weeds off your lawn, you're ensuring your grass continues to receive the nutrients it needs to become healthy and strong.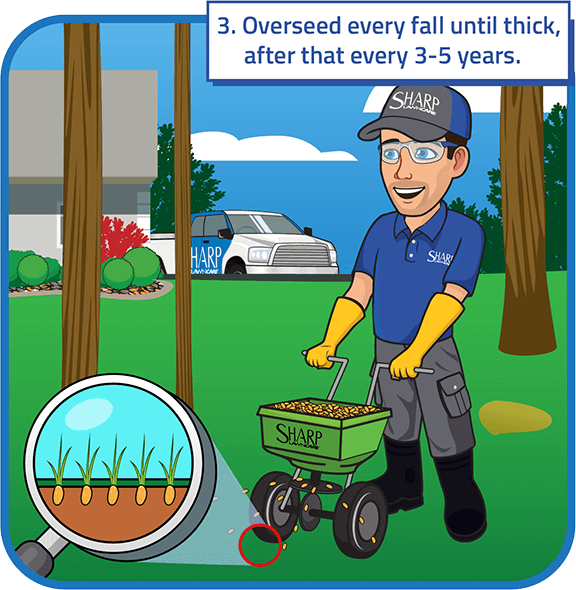 Overseeding Promotes New Grass Growth
Once the fall season rolls around, it's time to start thinking about overseeding your lawn. Overseeding is the process of spreading new seeds on your existing lawn to promote new growth. It is essential for thinning lawns or lawns with bare or patchy areas. Overseeding in the fall will allow that new grass to establish strong roots ahead of winter, which prepares it to start growing again when spring returns.
The Homeowner's
Portion
Maintaining your lawn through mowing and watering takes a little work, but the reward is a Sharp yard for you and your family.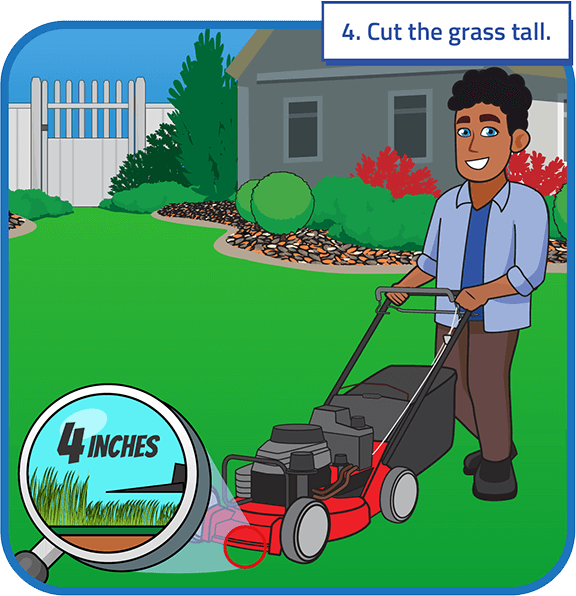 Maintain your lawn with regularly scheduled mowing and watering.
Mowing and watering your lawn regularly is key to maintaining its beauty. When you mow your grass, you want to make sure it's mowed at the proper height. If you cut your grass too short, then you run the risk of damaging your lawn. As a good rule of thumb, you never want to cut more than 40% off the top of your grass blades at once.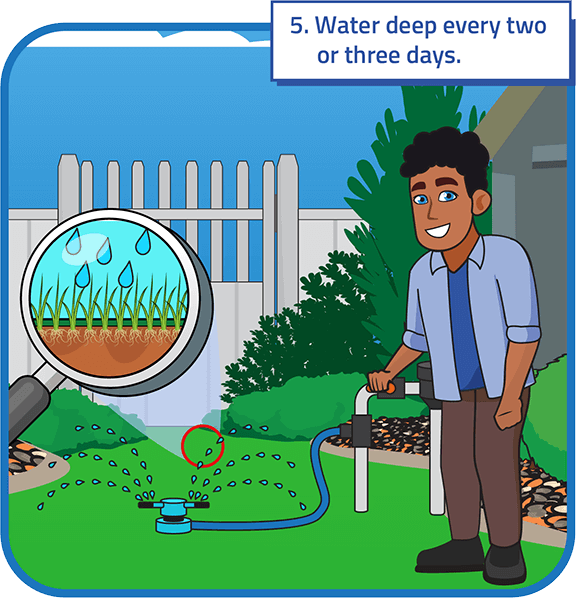 The right amount of water.
For watering, you need to make sure you're providing your grass with the right amount of water. You don't want to dry it out nor do you want to overwater it. Ideally, you want to water it around 2-3 days per week. During the cooler seasons, an inch of water will be enough for your grass, but during the summer, you'll need to increase it to 2 inches of water to combat the heat.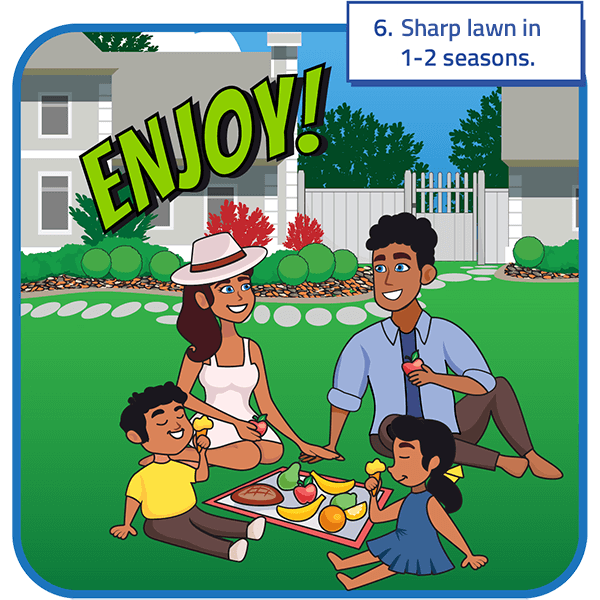 It's time to begin your journey to a Sharp Lawn. Call us to sign up for our lawn care services!
Following the steps outlined in this guide will ensure you end up with the Sharp lawn of your dreams. At Sharp Lawn Care, we'll take the first steps of this journey with you by aerating your lawn, fertilizing your grass, applying weed control, and then overseeding your lawn in the fall. We offer our lawn care services to properties in the Sioux Falls, SD area, including Tea and Harrisburg. If you're in this area, then call us at (605) 251-6880. We also service properties in the Sioux City, IA area. If you're in this area, then call us at (712) 253-8024.
Great service, as long as i follow your instructions lawn looks great. very happy
-- Mike Rooney