Webworms and billbugs are common lawn insects that we typically see here in South Dakota and Iowa. Both insects feed on your grass, so it's important to address the issue if you ever find that either insect has found its way to your lawn. In order to correctly eradicate the issue, you'll need to identify exactly what type of bug is causing damage to your grass.
The signs of webworm and billbug infestations are very similar. It can be difficult to discern which one is infesting your property if you don't know what signs to look out for. Regardless of which bug you suspect is in your yard, you will want to contact pest control professionals who can correctly identify and treat the problem before anything gets worse.
---
What are webworms and how do they damage lawns?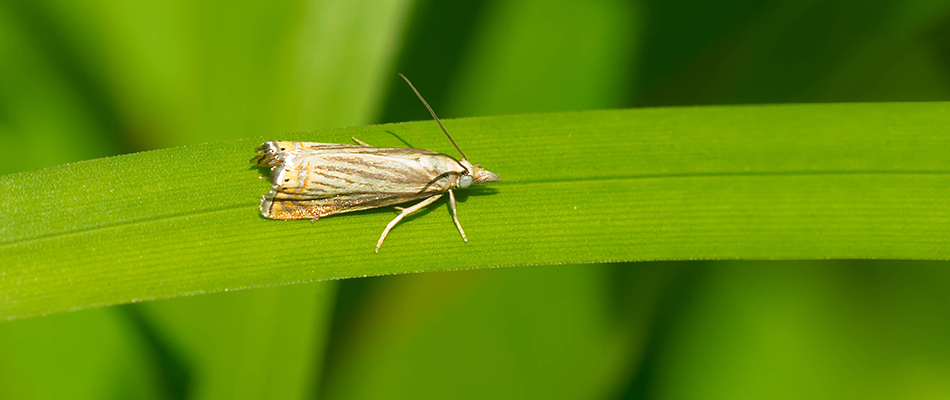 Webworms are a type of caterpillar that eventually becomes a moth. Appearance-wise, they're about an inch long with green and brown on their backs with coarse hairs. Typically, you will find webworms either on your lawn or in your trees.
In the yard, webworms will eat the grass. You might see patchiness in the turf and sections of grass that seem to be clipped. Webworms usually do not impact the soil. If you have a webworm infestation, one of the first signs you will notice is brown ragged spots in the ground. As time goes on, if nothing is done to eradicate the issue, these spots will grow larger and larger.
---
What are billbugs and how do they damage lawns?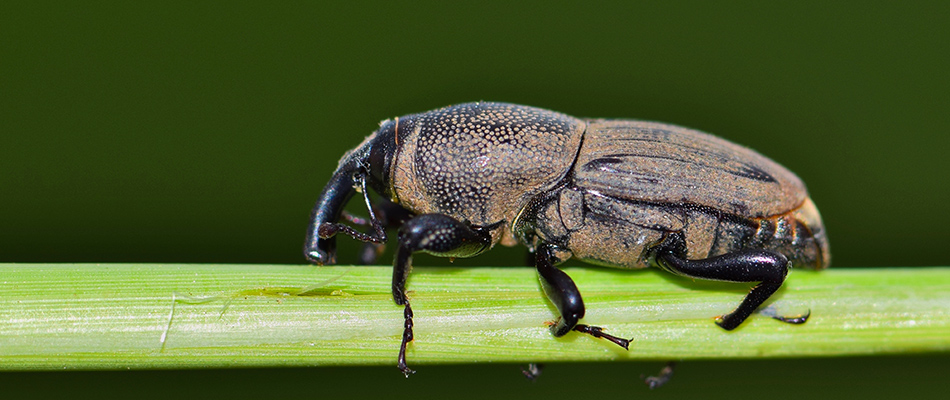 Billbugs are beetles that are black or gray with a snout protruding from their heads. After burrowing in the soil, they may appear to be brown or beige. They are typically found in both warm- and cool-season grasses. There are at least four different kinds of billbugs found in the midwest.
They attack lawns by eating all the different parts of the grass: stems, roots, crowns, etc. Around mid-June, you may notice some small dead spots in your grass, which is the first sign of a billbug infection. As the season goes on, the dead spots may grow in size and spread across the lawn.
Billbugs can't fly very far or for long, so they disperse using driveways, sidewalks, and curbs.
---
Contact professionals if you suspect webworms or billbugs are infesting your lawn.
As you've probably noticed, the signs of webworm and billbug infestations are very similar. Because you won't be able to solve the issue without identifying the problem, you will want to call a professional pest control company. It can be difficult to figure out which bug is in your grass, but a trained professional will be able to identify which insect is destroying the turf. They also will be able to figure out the best way to solve the problem and treat your lawn. Many professionals will come back several times during the most active seasons for the insects to re-treat your property. Pest control experts will ensure that they treat your grass properly to eliminate the current bugs and prevent any more from appearing.
---
Think you have webworms or billbugs? Call us today to schedule a pest control treatment!
At Sharp Lawn Care, we understand the frustration of finding insect infestations on your property. We want to help stop the spread and eliminate these insects because they can cause damage to your yard. We use an eco-friendly insecticide that eradicates roughly 75 different kinds of bugs, including webworms and billbugs. With our Lawn Defender Package, we will treat your lawn for insects and eliminate any threats to the well-being of your property.
We offer our pest control treatments to residential, commercial, and HOA properties in Sioux Falls, SD and Sioux City, IA. We also serve properties that are nearby in South Dakota, such as Tea, Harrisburg, and Brandon. If you are in the Sioux Falls area, call us at (605) 251-6880. If you are in the Sioux City area, call us at (712) 253-8024.