Keeping your lawn as healthy as possible is crucial to achieving a beautiful lawn. Unfortunately, certain lawn diseases halt this process and can damage your lawn if not treated properly. One of the most common lawn diseases in South Dakota and Iowa is powdery mildew. This is a disease caused by a fungus and causes your lawn to look like it has been sprinkled with white powder. This mildew can be very alarming at first, but there are specific things you can do to help! Once you initially notice powdery mildew, it is crucial you contact a professional right away and schedule a curative fungicide treatment. Professionals will be able to evaluate the disease and apply effective treatments to eliminate it. You should also sign up for a fertilization and weed control program to help prevent your lawn from falling victim to this disease in the future.
---
What is powdery mildew and what kind of damage can it cause?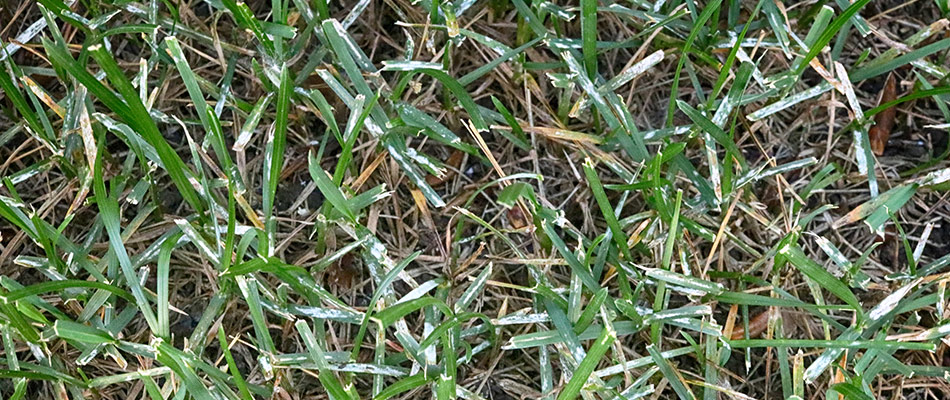 Powdery mildew is a common lawn disease that is caused by fungus. It makes your lawn look like someone has sprinkled flour all across your lawn. This lawn disease develops on the surface of your grass blades and is caused by multiple factors, including poor air circulation, lots of shade, and high humidity. Although this fungal disease will not cause significant damage at first, your lawn will become weak and susceptible to other stressors if it is left untreated. Powdery mildew may cause infected areas to become yellow and negatively affect the curb appeal of your property. This lawn disease does not spread easily, but to keep your lawn from enduring any further damage, you need to control the problem as soon as possible!
In severe cases, powdery mildew can cause your lawn to thin out.
---
Call a professional to evaluate your lawn and schedule a curative treatment.
When you first notice powdery mildew on your lawn, it is critical that you contact a professional quickly. This type of lawn disease spreads slowly, but if not treated promptly, your lawn will suffer. Upon arrival, professionals will evaluate your lawn and confirm the presence of powdery mildew. They will then apply highly effective curative fungicide treatments to help eliminate the disease from your property. It is always best to contact a professional to handle powdery mildew so that it can be eradicated quickly and efficiently.
---
Sign up for a fertilization and weed control program to help prevent powdery mildew in the future.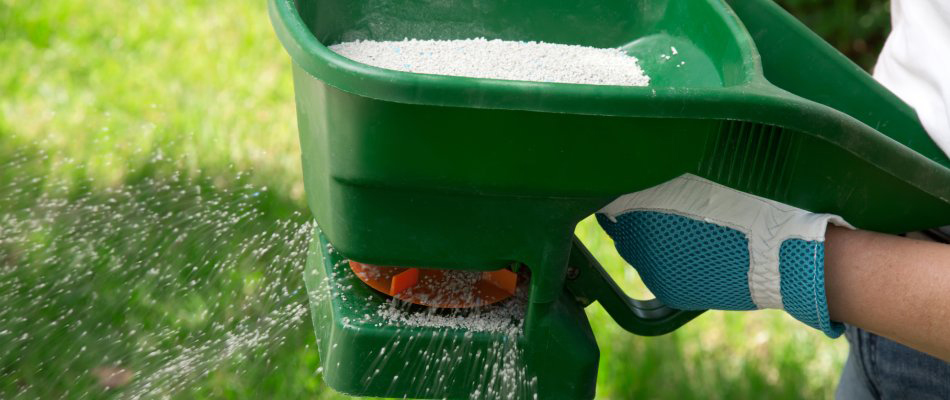 Although curative fungicide treatments will eliminate the disease, they won't help prevent it from coming back or repair any damage that has already been caused. Because of this, you should always sign up for a fertilization and weed control program to help prevent this disease from occurring in the future! With the help of a regular fertilization and weed control program, your lawn will have the strength and resilience it needs to fend off diseases like powdery mildew and remain healthy in the long run.
---
Give us a call to schedule our lawn disease control service!
If you are noticing any signs of lawn disease on your property, our team at Sharp Lawn Care is here to help! Our team can help identify the disease and apply curative treatments to eliminate it! We also offer our fertilization and weed control services to help strengthen your grass and prevent your lawn from falling victim to these diseases in the future. We offer our lawn disease control service to commercial, residential, and HOA properties in Sioux Falls, Tea, Harrisburg, SD, and surrounding areas. We also serve properties in and around Sioux City, IA. If you are in South Dakota, you can schedule our service by calling (605) 251-6880. If your property is in Iowa, call (712) 253-8024.