Fertilizer is essential to developing strong and healthy lawns, so make sure to get your grass fertilized before the warm summer months. Spring fertilization is important to keep your lawn strong and revitalized for the summer months in South Dakota and Iowa. Early spring fertilization will give your lawn the nutrients it needs to help emerge from winter dormancy. Mid-spring fertilization will foster a lush, green lawn that will be strong enough to withstand the heat of the summer. Using a tandem of fertilizers and weed control services will prevent pesky weeds from popping up and stealing important nutrients from the grass.
---
Give your lawn the nutrients it needs this spring with a fertilizer treatment.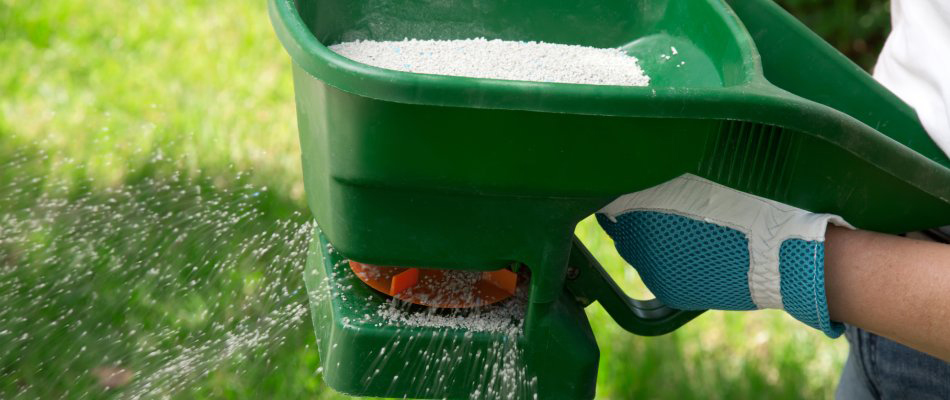 As the weather warms up, fertilizer will be vital to keeping your grass strong and healthy. With the arrival of warmer spring conditions, your lawn will need a replenishment of nutrients after winter dormancy. That's why it's so important to get your lawn started on the right foot and give it a headstart for a lush summer with a fertilization treatment.
Early spring fertilization treatments should also include micronutrients, biosolids, and iron to strengthen and revitalize your grass.
---
Spring fertilizer will prepare your lawn for the upcoming summer heat.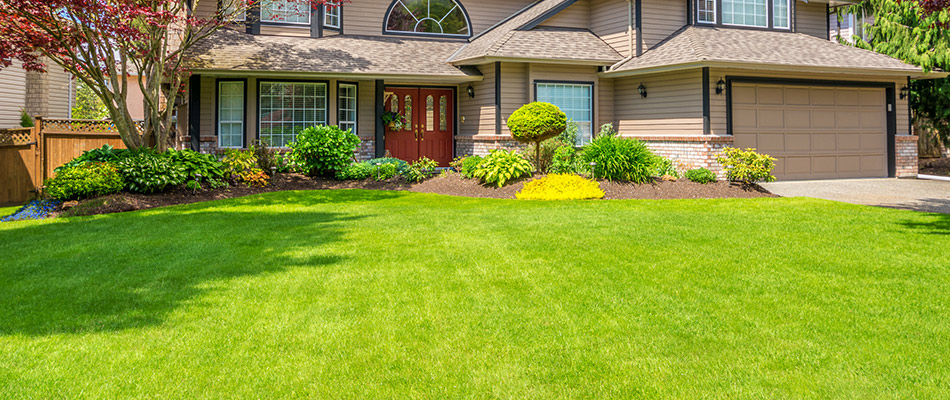 Summer heat can be detrimental to your lawn. The heat can cause stress on your grass if it does not have the nutrients it needs to flourish. A mid-spring fertilizer treatment will prepare your lawn for the upcoming summer heat by giving it the nutrients it needs to survive through the following months. Fertilizing in the spring will give your lawn time to become healthy and sustain itself throughout the summer.
Fertilizers contain three key elements: nitrogen, phosphorus, and potassium. Nitrogen increases the thickness and sturdiness of grass blades to keep your grass stronger. Phosphorus boosts root growth and early development which will improve the strength of the roots. Potassium helps improve the grass's effectiveness at fighting off the negative effects of drought and diseases. All three elements help fight off the negative effects of summer heat. They improve the grass's strength, growth, and ability to fight off dryness and disease.
---
Use weed control treatments to make sure your grass gets the nutrients, not the weeds.
Weeds not only tarnish the look of your lawn, but they also steal nutrients away from your grass. Because of this, professional fertilizer treatments are typically paired with weed control. Applying weed control treatments in conjunction with fertilizer will prevent weeds from taking vital nutrients away from your grass. Many lawn care professionals will provide pre-emergent and post-emergent services. Pre-emergent services keep weeds from sprouting on your lawn. It is used as a preventative treatment that essentially blankets the soil with a barrier so weeds cannot grow from the soil. Post-emergent treatments help kill the weeds that have already developed and poked through the soil.
Crabgrass and foxtail are pesky weeds that are popular in South Dakota and Iowa.
---
Keep your lawn strong with fertilization and weed control treatments this spring. Call us today!
At Sharp Lawn Care, we know how important it is for your lawn to not only look beautiful but also to stay strong and healthy during the summer months. Our fertilization services and weed control treatments will keep your lawn secure for the warm weather.
We provide fertilization and weed control services to residential, commercial, and HOA properties in Sioux Falls, SD and Sioux City, IA, as well as the surrounding areas in South Dakota, such as Tea, Harrisburg, and Brandon. If your property is located in the Sioux Falls area, call us at (605) 251-6880. If your property is located in the Sioux City area, call us at (712) 253-8024.