Whether your lawn has been damaged by the harsh winters of South Dakota, recently suffered from a turf disease, is lacking in nutrients, or all of the above, you can recover your lawn with fertilization, aeration, and overseeding. These services help to supply your grass with nutrients, boost its growth, and fill in any weak or patchy areas on your lawn. Depending on the lawn care service provider, there are different types of fertilization and aeration. It is important to understand the differences, and pay attention to package deals. Usually, overseeding and aeration are done together. Fertilization, aeration, and overseeding will recover your lawn's health and leave you with luscious grass that any neighbor would be jealous of.
---
Fertilizer will Supply Your Lawn With the Nutrients it Needs to Grow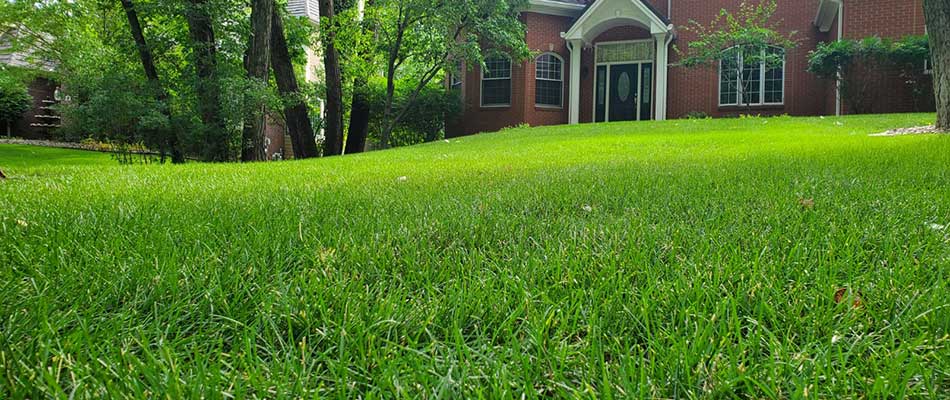 Fertilization is one of the better-known lawn care services, and for good reason. It supplies lawns with nutrients such as phosphorus, potassium, and nitrogen; all of which are needed to help the grass grow strong and give it the familiar vibrant green color. Lawns need these nutrients, as they are exposed to many stressors that can drain their supply. These include:
Summer and winter weather conditions
Turf disease
Weeds that steal nutrients from your lawn
If your grass is yellowing or brown, fertilizer is sure to replenish its green color. Fertilizer treatments can either be granular (slow-release), where the nutrients are gradually released into the soil, or liquid (quick-release), where it is a quick spreading of nutrients that are delivered to the roots almost instantly. Some companies prefer one fertilizer to another, so it is important to research the type of fertilizer a company is using if you have a preference.
---
Aeration Loosens Compacted Soil so that Nutrients can Reach the Roots Easier
Aeration is beneficial for your lawn because it makes it easier for nutrients, water, and sunlight to reach the roots by loosening compacted soil. This boosts the growth of your grass and benefits its overall health. Aeration can help with any damage your lawn faces. Although there are two types of aeration, the most common is core aeration.
Aeration is usually paired with overseeding. Companies will either highly recommend or automatically package them together.
---
Overseeding will help fill patchy or bare areas on your lawn.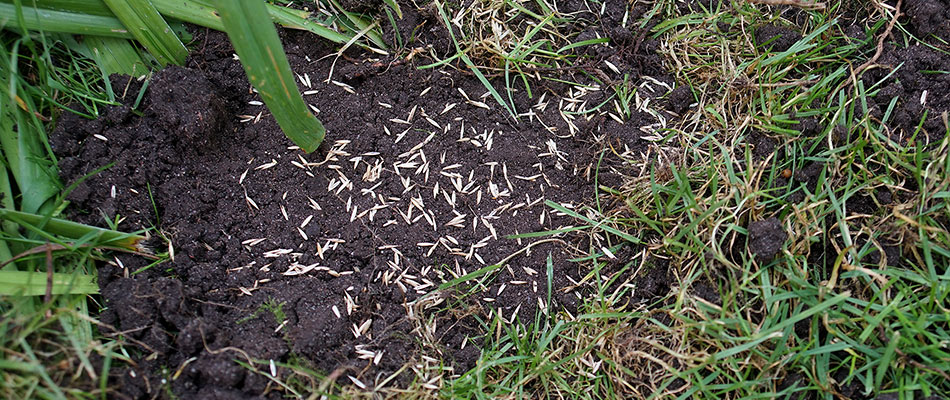 Overseeding helps fill a lawn out and reduce any patchy or bare spots after it has been damaged. Lawns are always healthier and more appealing when there are no empty spots throughout. Overseeding is not usually sold on its own; rather, it is typically paired with aeration. The best results will come from combining the two services so that the soil is loose enough to receive the seeds.
---
Do you need help with a damaged lawn? Contact us today to recover it with fertilization, aeration, and overseeding!
Fertilization, aeration, and overseeding are the three most beneficial services to help recover your damaged lawn. It will help to loosen the soil, supply it with the necessary nutrients and resources, and fill out the patchy and bare spots with beautiful, green grass. We offer three different fertilization packages to choose from, and the products we use are eco-friendly and have been approved by the Department of Agriculture. Overseeding is offered as an add-on to our aeration services.
We offer all three services to both commercial and residential properties in the Sioux Falls, SD area, including Tea and Harrisburg. If you are located in this area, call us at (605) 251-6880 to schedule our package and add-on options. We also serve commercial and residential properties in the Sioux City, IA area. If you are located here, call our office at (712) 253-8024 to get a quote today!